There's So Much Evil Out There (2017)
Dışarıda Çok Kötülük Var
Installation
Bed in a room, bedside cabinet, embroidered bedding and wall writing


The installation titled "There's So Much Evil Out There" (2017) positions in the exhibition space the type of treatment room commonly encountered in a mental asylum. The artist's handwriting covers everything in the room, including the sheets and walls, urging viewers to experience a different state of consciousness.
"Dışarıda Çok Kötülük Var" (2017) adlı yerleştirme, herhangi bir akıl hastanesinde karşılaşılabilecek türden bir hasta odasını sergi mekanına taşır. Yatak çarşafları ve duvarlar dahil tüm odanın sanatçının el yazısıyla kaplandığı bu iş, izleyiciyi farklı bir bilinç halini deneyimlemeye davet eder.
Please click to listen the English audioguide of the work.
Eserin Türkçe anlatımını dinlemek için lütfen tıklayınız.
CANAN: Behind Mount Qaf (CANAN: Kaf Dağı'nın Ardında)
© ARTER
Photographs: Murat Germen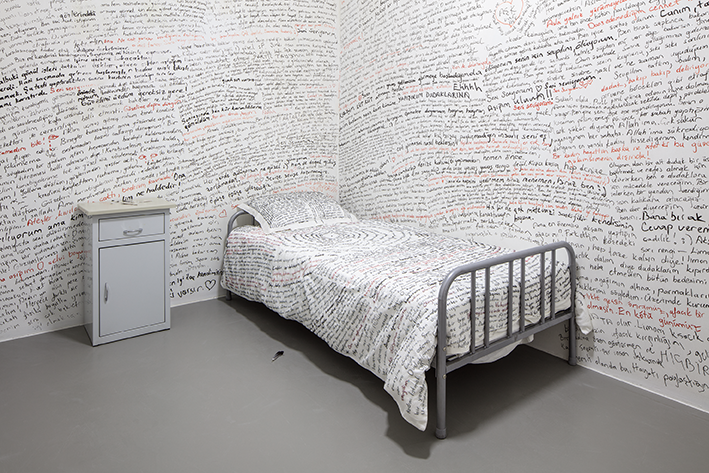 CANAN's exhibition "Behind Mount Qaf" was documented in 3D by oddviz, an Istanbul-based collective, employing photogrammetric method.

To create the 3D model of the exhibition, members of oddviz, Çağrı Taşkın, Serkan Kaptan and Erdal İnci visited the space weekly and took thousands of photographs. They later processed the images by stitching them together within their specific spatial coordinates. 

All three floors of the exhibition can be visited through the mouse-clicks of your computer. You can take your digital exhibition tour through Virtual Reality headsets or full-screen mode on your PC.

Links to view the models:

Floor 0:goo.gl/kQddMU
Floor 1: goo.gl/WaF4v4
Floor 2: goo.gl/LVvNu4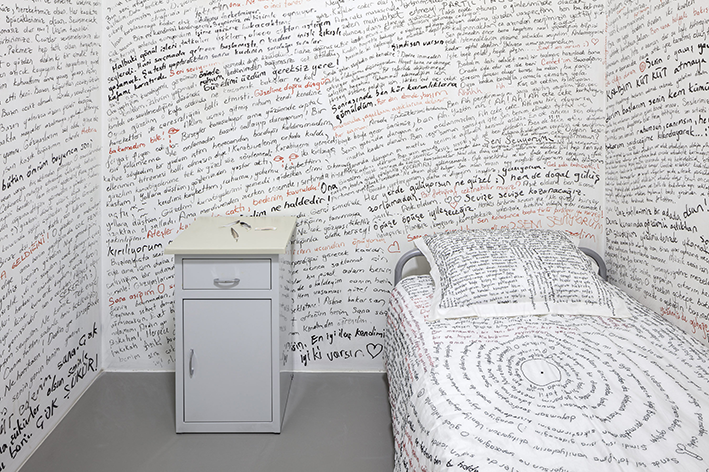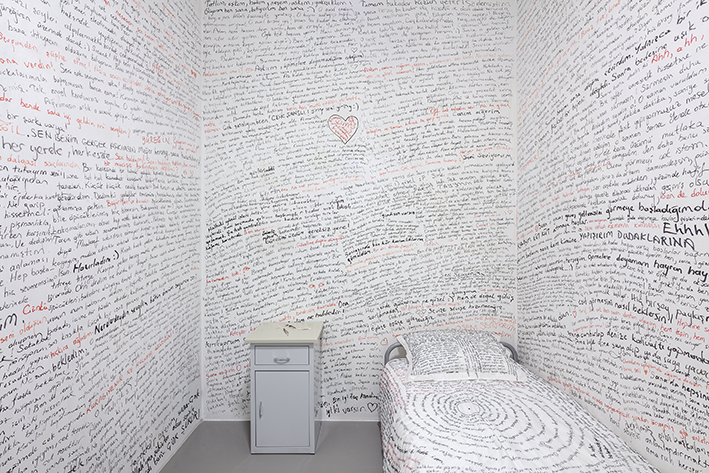 Photo from CANAN's solo exhibition "Behind Mount Qaf" at Arter, Istanbul